Our Service Is Unmatched
The service team at Garden City Mazda has been factory-trained to provide you with exceptional service and ensure your vehicle is performing at its best.
Awards
See our awards below.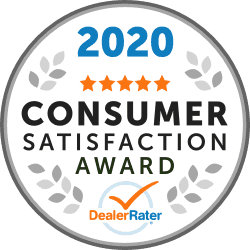 Garden City Mazda Testimonials
A sincere THANK YOU to all our favorite customers!
I had to visit this dealership after getting very cold assistance from my local MAZDA of Valley Stream. This place is the complete opposite. From the moment you walk in the door you and your business are treated like it's appreciated. Needing a very minor and inexpensive part I was warmly treated by Josuah, a sales consultant who went out of his way to show me where I needed to go to find the parts department. Reginald and especially Moises Mendoza were extremely helpful and like I said I purchased a very inexpensive part but Moises gave me his card and said just call him whenever I need assistance. Jahnette from the cashier was very kind and friendly. I had to find the source behind the positive energy in this place and was warmly greeted by the General Manager Jack DePalo and like the saying goes Attitude is a reflection of Leadership, it was no surprise why this was the case. This location will by no surprise be my home for parts, service and me and my children's next new car purchases.
I brought my car in for a quick check up before a long trip. Ahmed and the service manager Juan treated me very nicely and accommodated me even though I had not made an appointment prior. During the inspection it was determined that the tensioner device was leaking which might have caused the belts to either slip or outright fail altogether. Ahmed and the mechanic were able to find the part and fix it same day.
Worked with Ray Brown. He was AMAZING!! We follow him to dealerships because he is truly genuine and not a "car salesman." He treats everyone like family and is honest and a good person!! Would highly recommend Garden City Mazda!
My husband and I both got vehicles this past weekend from Garden City Mazda and could not be happier with the process. We dealt with saleswoman Cavene , F&I Keith, and GSM Ray Brown. Their prices were unbeatable, they got my husband out of his lease early, into a new and upgraded Mazda 6 and I got a sick deal on a CX5. I cannot thank Ray and Cavene enough for their hard work, making sure the transaction was smooth and that we were in and out of the dealership within a mere 2 hours. More importantly they were honest and upfront and didn't waste our time. Easily the best car buying experience we've had in a while. We are both so happy with our new vehicles.
We purchased a CX 5 and were very satisfied with our purchase. Our salesperson Hassan was very pleasant and helpful. The General Sales Manager Ray introduced himself to us and made us fell very comfortable about purchasing a vehicle from this dealership. The finance person Jayson did not pressure us into buying anything that we did not want, he left it entirely up to us as to what we wanted. It was a very pleasent experience.
I just purchased my first car today and I was so happy with the service provided. Roberto was AMAZING and so incredibly caring. He made sure I got the car I really wanted with all the features I was looking for, while also making sure I stayed within my budget. I honestly couldn't have asked for someone better to help me get my first car. He explained everything to me in a way that I could easily understand and had a ton of patience. If you go here to get a car, make sure to ask for Roberto!!!
This is my second car with this dealership and my second car with Keith he is amazing he explains everything gives you the step-by-stepHe's friendly and I wouldn't go to anybody else if you go to Garden city Mazda ask for Keith hands down
Keith is one of the best Sales Reps I've ever encountered. Knowledgeable, funny and overall made my experience the best I could've hoped for.
Keith is the absolute best! He's very knowledgeable, professional and he'll definitely make you laugh! Keith went above and beyond which I was not expecting. He made sure I was comfortable throughout the whole car buying process. I definitely recommend Keith at Garden City Mazda!!!!!!
I had a great experience at the Garden City Mazda dealership. The salesman I worked with was very professional and helped me find the exact car for my needs.
Bought a great pre-owned car from Garden City Mazda, and Keith was an excellent person to work with there. So friendly and helpful, he made himself really available during the sales process and was so knowledgeable. I would buy another car from Keith in a heartbeat, and would recommend him to anyone who was at all interested in buying a Mazda.
The service rep, Mr. Carusone was very professional and courteous. He was extremely pleasant to deal with and the service was completed in a timely fashion as he had stated. I also met with the new general manager at Mazda of Garden City and he also was very approachable, professional, and helpful. He not only listened to what I had to say but honored a prior commitment made by the previous owner, you don't see this anymore. I want to say thank you to him and Mr. Carusone.
Keith was very helpful/great and went above and beyond to make the leasing process easy. Explained all the ins and outs of the vehicle. Overall Keith was very professional.
Keith was very professional, knowledgeable and helpful. It was a pleasure to interact with him. He extended all courtesies to earn my business and to clarify any misunderstandings.
The service rep. was top notch. He was very thorough in getting the vehicle serviced properly. Work was also very good. This definitely was a good experience and I would recommend this dealership.
Keith was informative and professional throughout the entire experience. I appreciated his straight answers and his attention to detail. I highly recommend him to anyone.
We have been leasing Mazdas for over 18 years and we would not go anywhere else. Keith and George are awesome! Service department is great!
I have been buying and leasing Mazdas since my children were very small starting with the Mazda van. I am now on my 4th Mazda CX5 and I love it! My favorite dealership is Garden City Mazda because of the wonderful people that serve the public. They are very professional, helpful, and determined that you leave their dealership happy! Their service department is excellent as well. I have been going back to Garden City Mazda for years and every time it seems to be getting better and better! Bravo to Ashley McDonald and Cesar Reinoso for their excellent service! I strongly recommend this dealership and plan on coming back again! Thank you, Ashley and Cesar!!!
All service staff are wonderful. Helpful, polite and professional. I have recommended this dealership to many of my friends. Been a loyal customer for over a decade.
Giancarlo and the entire Mazda crew are very professional and reliable. Service appointment was kept as scheduled. Options were explained succinctly and alternatives suggested. They're the best!
It's the best mazda dealer and service in the area. Wonderful staff. Been going there for many years. I would highly recommend to anyone
Awesome service as usual. Lyndon and Josh were excellent. They took the time to break everything down for me as well as testing driving a potential car.
I went back to return my leased, and again decided to do business with Mazda, and got helped by Joshua Niles, who knows his business and i was very pleased to work with him. Excellent customer Service provided by him, and will definitely recommend him to my friends and family who wish to purchase a Mazda. Very satisfied with his help and overall assistance.
Mazda salesman Mr Keith Butterfield was very knowledgeable and polite. I just purchased a top of the line CX-30 from Keith he was a gentlement and very patient. he explained the inner and outer workings of the car very well that's why I gave him a 5 stars rating !
Everyone I encountered was polite and helpful. Oil change, rotation of tires and overall check, done in an hour. Mike is also amusing, nice to see a smiling face at 8 on the morning.
THANK YOU FOR VISITING Garden City Mazda
At Garden City Mazda, you'll discover a difference the moment you walk thrpugh the doors of our new state-of-the-art facility. We are committed to excellence in all things, nit just the vehicles we offer, but the way we treat our customers to ensure a positive, lasting experience. Garden City Mazda is always reinventing itself, ready to meet the needs of our customers now and in the future. Building relationships in our community is important to us, because our customers are our negighbors, and we know how special that is.
Committed to creating the "PREMIER" Mazda dealership, we've built a cutting edge 37,000 square foot facility, offering the largest and most complete of new and certified pre-owned SUV and sedan selection at the most competitive prices in the Tri-State area. Your experience getting financed is quick, easy, and transparent with our experienced finance team, ready to secure the right loan or lease program, just for you. And our commitment continues well beyond the purchase of your vehicle.
Our professional team of highly trained factory certified technicians & advisors are on hand to assist you, with the state-of-the-art-equipment to handle all your service needs, as well as a huge inventory of genuine Mazda parts.
We'de like to welcome you to the new Garden City Mazda, where you'll find vehicles with style, quality and technology, a friendly approachable staff and a professional service department, everyh time you step through our doors, or pick up the phone wuth any questions you may have. Call us at 516-292-7827 or visit us online at GardenCityMazda.com
Come discover the difference at Garden City Mazda.
Garden City Mazda
Hempstead, NY
229 North Franklin St., Hempstead, NY 11550
Hours
Sales
Monday - Thursday: 9:00 AM - 8:00 PM
Friday: 9:00 AM - 7:00 PM
Saturday: 9:00 AM - 6:00 PM
Sunday: 11:00 AM - 4:00 AM
Service
Monday - Friday: 7:30 AM - 6:00 PM
Saturday: 7:30 AM - 5:00 PM